March 3, 2010                        
        We had planned to visit the States in February from the beginning.  The most important part of our trip was to see Robert's parents in Turlock, CA.   Dad is residing in assisted living and Mom is thinking about joining him so they can be together.   Robert's brother, Richard, has been transporting her daily to Dad's place but while we were there we could spend longer times and enjoy some outings together too.  We are relieved to know that they are doing so well.
Mom, busy as usual, preparing things for her guests.                  
Dad and Richard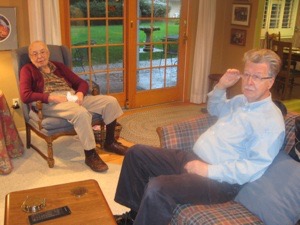 In the Seattle area we had a great brunch with our friends from Olympic Evangelical Free Church in Poulsbo.  We stayed with friends Jim and Vicky McClurg while visiting the dentist, doctor and tax guy.  Robert visited his friends at the Navy base and attended a Seattle Pacific University basketball game.
        Beryl took a few days and flew to Philadelphia to visit Brian where she met his kitties, Julia andSpencer, pictured below.  She visited Brian's work place and met some of his friends.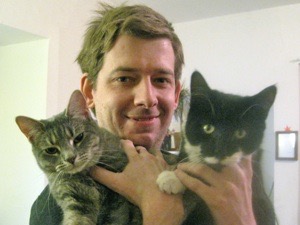 On the "Rocky" steps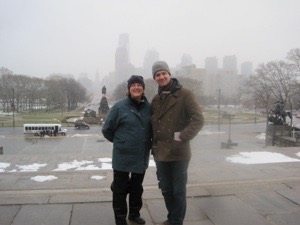 Our son, Brent, lives and works in Seattle and we had a good time with him although his kitty, Hugo, is very camera shy.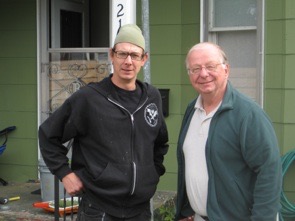 Beryl also enjoyed a traditional weekend with her quilting friends at Camp Casey on Whidbey Island.   Pictured below is one of the officers' quarters and Puget Sound on the former Army post.  Also below are Beryl's friends with their "albanicos" [fans] from Spain.