November 11, 2009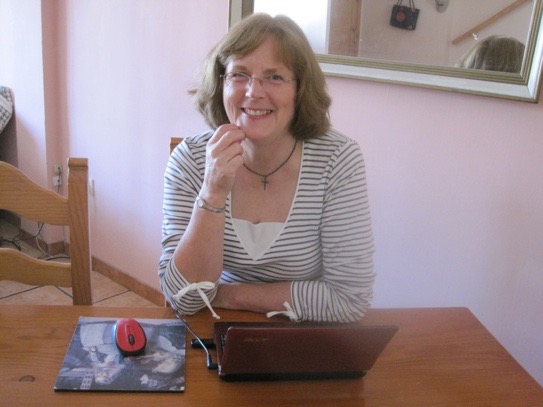 Later that week after the retreat, I had my Spanish birthday. Our friends took us to a breakfast buffet at the beach near our home. Las Olas sits right on the board walk (or brick walk) next to Getares beach. For not too much, you could have coffee or tea and your choice of twenty items on the long smorgasbord table. A Spanish breakfast contains long, crunchy rolls of several shapes, yellow cheeses (the hard sheep's cheese from La Mancha, Emmental, Maasdam Swiss) and sliced meats for making sandwiches (garlicky chorizo and salchicha, olive loaf, cooked ham and the air-cured jamón serrano). You could warm up already-made omelets in the microwave and slather on roasted peppers and garlic in olive oil, and select orange or pineapple juice, and yogurt and dry cereals, of course.  The traditional Andalusian breakfast in a toasted long roll (mollete) drizzled with olive oil and spread with grated fresh tomato.
Around 9:00 p.m., Robert and I walked to a restaurant with lace curtains and white linen tablecloths. Fragrant white lilies sprouted out of vases on each table. We were the first to arrive, and also the only ones that evening. The attentive waiter helped us order a mixed salad to share, and entrees of baked cod with asparagus, and roasted leg of lamb with potatoes. Lovely and elegant—full and happy, we walked back to our place and called our friends to come over for the birthday cake.
So, at about 10:30, we cut the marzipan-covered cake and parceled out the Styrofoam rosebuds. Rachel said they were edible—they tasted like rice wafers.  I received some practical gifts—a hairdryer and a Spanish fan. Several cards arrived from the U.S. to complete the day.