This is a photo of the Blue Mosque in Istanbul, Turkey.  It was built in the early 1600's.  It has six minarets instead of the usual four or fewer but we don't understand the significance, if any, of that. We did not get inside the Blue Mosque.  As we approached it was closing for noon prayer and we did not have enough time to come back later.
         In a relatively compact Old City this and other famous sites are easily visited.  Which is good since we only had one day, this time.  We will certainly come again and also explore some of the other locations in Turkey such as Ephesus.  Hopefully 2014 will be the year.  Meanwhile we had intentionally scheduled a 13 hour stop over.  With the help of a worker who lives there, whom we met in Germany in 2012 and who is supported by our Seattle church, we were able to venture into town and see a little.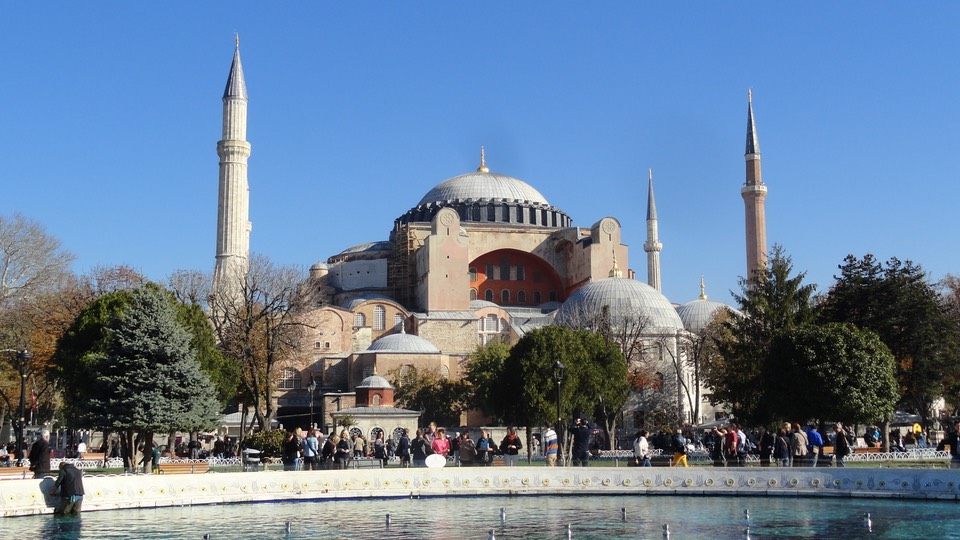 Pictured here is the Hagia Sophia (Holy Wisdom) Basilica [above and below this text and to the right in the sidebar].  Built in the Sixth Century by Byzantine Emperor Justinian it was the center of Orthodox Christian life until 1453.  Then the city was conquered by Muslims and it became a mosque.  It was the world's largest cathedral for almost 1,000 years.  The emperors of Byzantium were crowned here for centuries.  Since 1935 it has been a museum.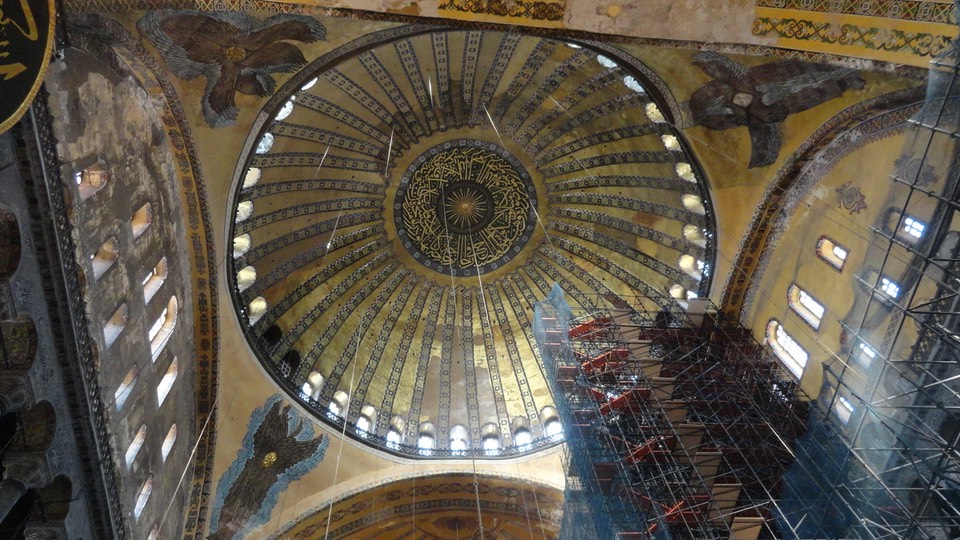 We then visited a nearby ancient cistern, built in the Justinian era.  It was large enough to provide water to a large ancient city.  Today all but a few feet of water is drained and elevated walkways allow you to explore its vast (yes, really, 50% longer than a football field) interior with ceiling held up by hundreds of 30 feet high marble columns.  It is a marvel of the ancient world.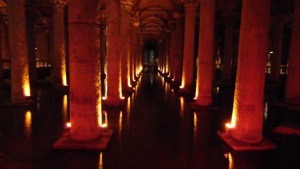 It even has two Medusa heads, this one is upside down.  Why?  Who knows?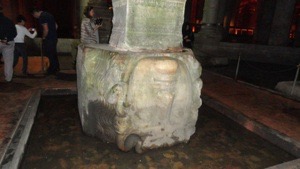 The last location we were able to see was the Spice Market.  While it is obviously set up for tourists there were plenty of locals who were getting their best bargains too.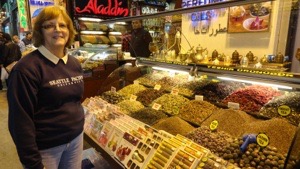 Leaving the city our friend took us past all the tourist boats charging much more to a ferry for locals going across to the Asia side from where we caught a bus back to the airport.  [If you are familiar with the area you have gathered that we were at Sabiha Gokcen, SAW, airport rather than the main airport, Ataturk, TAV, on the Europe side.  SAW is the budget airline airport.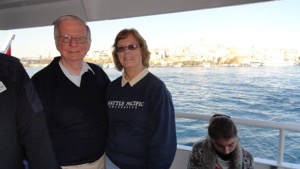 Such a great experience and thanks to our friends whom we are not able to name online.