August 2011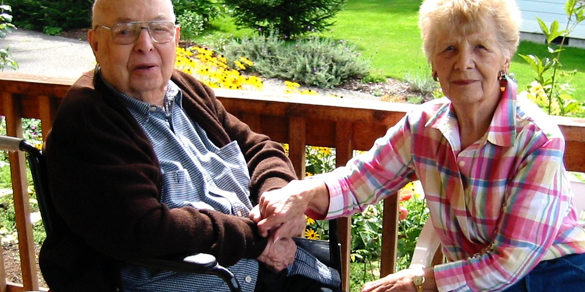 My Dad, Lionel (Bud) Carpenter ended his earthly journey of 94 years today and entered his eternal dwelling place.
Lionel Joseph Carpenter was the fifth of eight children born to French Canadian immigrant parents.  He was born in Cook, Minnesota on July 15, 1917.  His family moved to Minneapolis, Minnesota around 1921.  There he attended school through the eighth grade and then started working. 

He married Thelma Sandland on November 30, 1940 in Grygla, Minnesota.  He was drafted into the Navy in 1943 during World War II and was stationed in St. Augustine, Florida where he served as a metal smith in maintaining air craft.  He received his General Education degree while in the Navy.  In 1944 a son Richard was born and in 1946 another son Robert was born.  Bud was discharged from the Navy in 1945 at the end of the war.  He settled with his family in North Minneapolis and worked at various jobs.  He purchased his first home in Crystal, Minnesota In 1952.  
Family and job opportunities gave him the incentive to move his family to Anchorage, Alaska in 1959.  His brother-in-law Hank had him drive a new truck to Alaska in which all the family's possessions were tightly packed, including the cash for traveling up the Alaskan highway.  He started working in the construction industry for his brother-in-law Art Sandland, and eventually became a finish carpenter. He built his own home there along with the help of his sons.  He also built a second home a number of years later which he built to sell.     
In 1980, after Bud retired from construction, he and Thelma sold the family home, packed up a U-Haul truck with all their possessions and moved to Turlock, California where his son Richard and family lived. He bought a home here and used his skills to add the touches it needed. He enjoyed reading, loved baseball and became a loyal fan of the Braves. Bud and Thelma enjoyed traveling to various places in Hawaii and many other states.  They also entertained lots of guests from Alaska and Minnesota and other places. He attended Monte Vista Chapel for many years and then Connecting Point Church of the Nazarene.  In November of 2010 Bud and Thelma celebrated their 70th wedding anniversary. 
He accepted his many physical limitations without complaining and made the best of his situation. Bud is survived by his wife Thelma, a sister Doris of Minnesota, a brother Francis of Minnesota, two sons, Richard (Lynda) of Turlock, CA, Robert (Beryl) of Poulsbo, WA, Five grandchildren, Brent of Seattle, WA, Wes of Cool, California, Stephanie Leigh of San Diego, CA, Dan of Turlock, and Brian of Philadelphia, PA as well as seven great grandchildren and many nieces and nephews.  He was preceded in death by his father Nazaire Carpentier, his mother Josephine Rivard Carpentier, brothers Laurance, Louis, Clifford, and Bernard, and sisters Jean, Ida and Lorraine.    
    Dad and Mom during Dad's last visit to our home.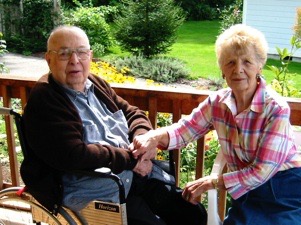 Grandsons escort Dad's casket.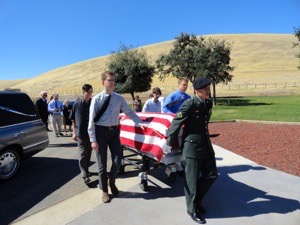 Soldier pays Taps.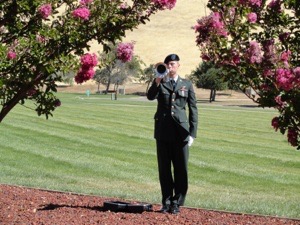 Mom is presented the U.S. Flag.