February 5, 2010                 
        The ruins of the Roman city Baelo Claudia is located on the northern shore of the Strait of Gibraltar.  It was founded about 100 BC as a port connecting the Iberian Peninsula with Tangier, due south in Africa.  It also had a salt fish factory.  Tuna runs twice per year in the nearby sea supplied ample fish.  Baelo Claudia is not as large as Merida nor did it have the prestige of Cordoba or Italica but it is a very complete and unique site of a Roman frontier city of its type.  It contains all the typical elements of a Roman town such as a Forum, Temples, a Basilica [pictured above], a market, a theater, thermal baths an aqueduct and wall with main gates.  Emperor Claudius [41-54 AD] granted it the rank of a Roman township at the height of its prosperity.  It was abandoned in the 7th Century.
    The map below shows its location in relation to Gibraltar and Morocco.   It is about one hour drive from the Rock of Gibraltar.   Due south, across the Strait, is Tanger.   We are asked where does the Mediterranean Sea end and the Atlantic Ocean begin.  We understand that the "Strait of Gibraltar" is a body of water between the Mediterranean and Atlantic.  The Strait's eastern end is a line between Gibraltar on the north and Ceuta on the south.  The western end is defined as from Cape Trafalgar [just west of Barbate]  on the north to Cape Spartel [just west of Tanger] on the south.
Below:  view of Gibal Musa in Morocco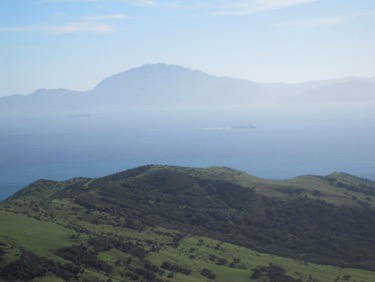 View of Forum with the Basilica [the columns]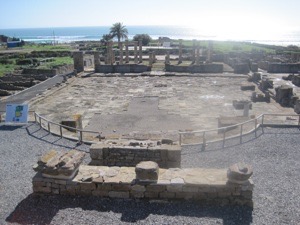 Robert and a guest walking on the actual paving and the sea.  In the foreground is Capitolium.