March 2014
     Are you a fan of Humphrey Bogart and Ingrid Bergman, stars in the 1942 classic movie "Casablanca"?  
       If you are then next time you are in Casablanca you can enjoy lunch or dinner at Rick's Cafe.  The cafe of the movie was totally fictional but this was opened in 2004 to create the feeling of the movie.  Lots of fun and excellent Moroccan tajine cooked food.
      We got to Casablanca aboard the Norwegian Spirit cruise ship making a round trip from Barcelona March 10-19, 2014.  A welcome time of rest and refreshment.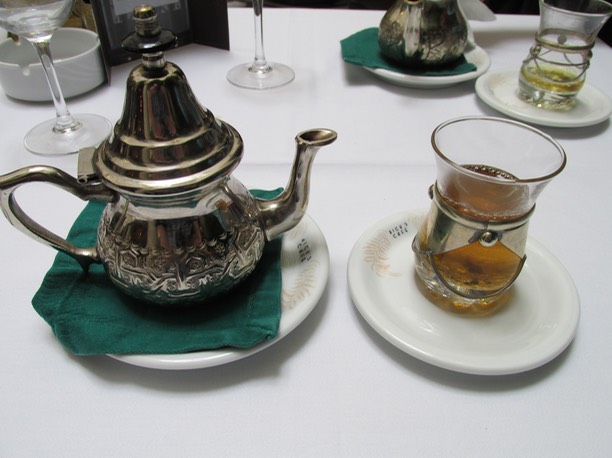 We had our first Moroccan tea in Cáceres, Spain and found it here of course.  Made from mint tea [herba buena] and sweetened with honey.  Oh My!
      The major cultural site is the Hassan II mosque located right on the Atlantic shore.  It is said to be one of the largest in the world.  It is rather new having been completed in 1993.  A stunning interior, both in size and craftsmanship, greets the visitor.  The guides give a reasonable explanation of Islamic practices for the mostly non-Muslim visitors.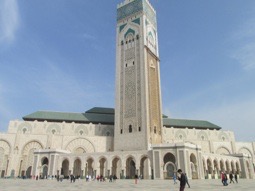 Here you see the splendid minaret towering above the mosque.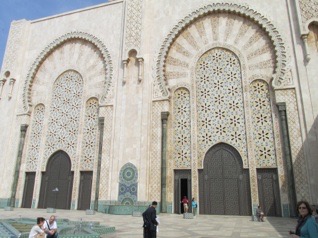 The scale can be pictured by comparing the photo below of the entry doors below and the people beside them.
Interior intricate ceiling decoration.
We had been told, and sadly it seems true, that Casablanca is quite untypical of Morocco. So together with Tangier in 2010 we have not yet seen Morocco.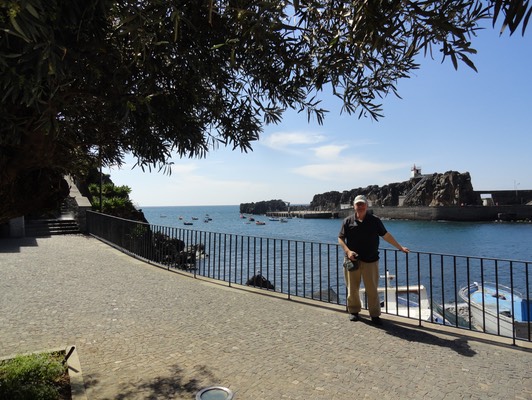 Madeira is a beautiful island in the Atlantic off of Africa.  Claimed by Portugal in 1419 it is the home of Maderia wine and Winston Churchill's favorite spot for memoir writing and painting from 1949 and after.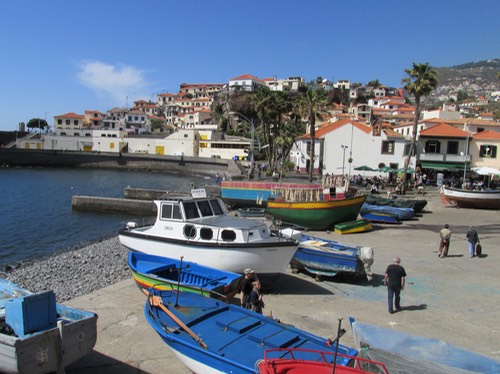 He spent many hours at the Camara de Lobos, a small coastal town with the fishing boats shown here.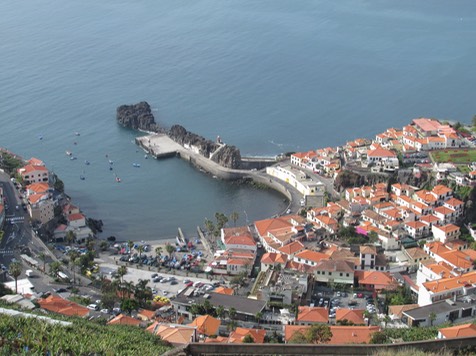 Camara de los lobos from mountain top and at shore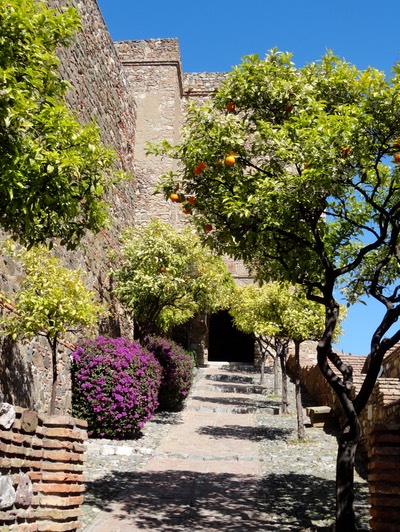 Malaga, Spain [right] was a final stop.  We have spent many days in Malaga and today had only one day but it was a joy to again explore El Castillo de Gibralfaro.