December 26, 2009
         Today we slept in until about 11:00 a.m. because we were out for Noche Buena until after 2 a.m.   Spaniards are notorious night owls so this was not unusual for here.   We arrived after 9:00 p.m. with a three course dinner at 10:00, dessert at midnight and coffee at 1:00 a.m.   See the photos below.   Today after a late start we opened our stockings and prepared for our dinner.   The little turkey [pavito] was perfect.   We missed you all, our family and friends but you were with us in spirit.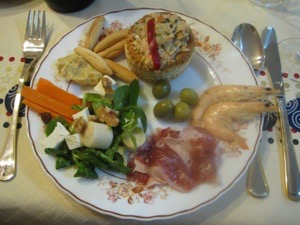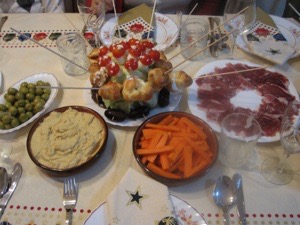 Above:   The "entradas"  [the first course] on the table and one Robert's plate.   Wish you were here!
    At our table today for Christmas dinner with our friend Mary from Sevilla.