April 2011                        
        On this Tuesday morning in April Beryl boarded a flight to WA headquarters in Orlando, FL for a couple days preparation for her travel to Africa.  I, (Rob), meanwhile, needed to be trained to do a bookkeeping job substituting of the financial guy in Germany.  So I took off to Germany to do that while Beryl was gone.    As you see in the photo above I got the benefit of several days of solo sight seeing travel while I was at it.   It was fairly easy to get around on the excellent German train system, except for the time I got on the right train on the right platform but in the wrong car and had to back track in order to get where I wanted to go!    The photo above was taken at the top of a gondola ride in the Bavarian Alps near the town of Fussen, Germany.  
       Nearby were the much photographed castles of Bavaria's  "Mad King Ludwig":  Neuschwanstein and Hohenschwangau.  I took this photo riding up the gondola.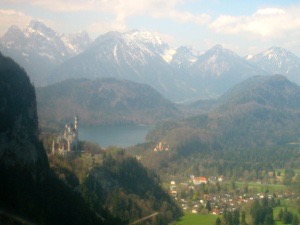 On arrival in Frankfurt I hopped a train to the medieval city of Rothenburg ob der Tauber on the recommendation of Larry & Eunice Luther, our former WA boss who spent five years in WA service in Germany and throughout the Eurasia area.   They were correct, the town is charming, almost too much so.   Hopefully I can return someday with Beryl to check it out more fully as it is a very good example of Germany of old.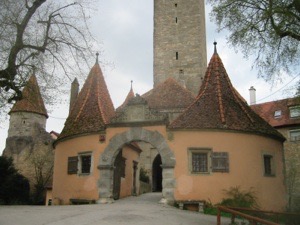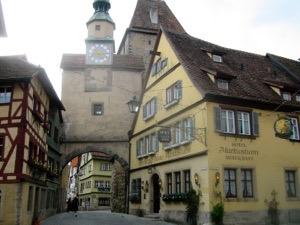 In the cathedral (you knew there would be one - didn't you?) is a magnificent example of medieval craftsmanship, the wood carved alter piece by Tilman Riemenschneider representing the Last Supper which was carved in 1500.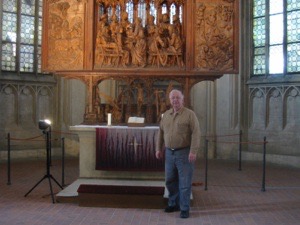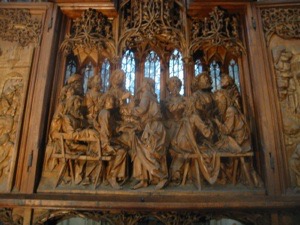 Sadly, German history is full of war and the cruelty that was inflicted by Hitler in World War II.      I was very near Dachau, one of the earliest of Hitler's concentration camps, located near Munich.  It does not bear the history of the great death camps but it was the prototype for all of them.   Visiting Dachau was a sobering reminder of man's capacity for evil and hatred.    It is hard to stand where such things happened without becoming emotional. 
       Finally I arrived in Kandern, Germany.   It is in the SW corner of Germany, not far from Basil, Switzerland.  It is the home of the Black Forest Academy, a school used by many workers for the education of their children both resident and non-resident.  Greater Europe group also has its HQ there for this reason.  I later learned that the daughter of our former pastor in Seattle teaches there.  It would have been nice to stop and sayhello.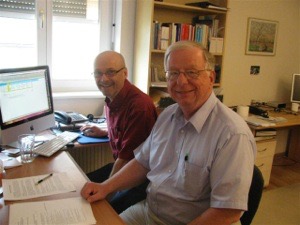 I was there to meet with HQ staff for translation workers in numerous Eurasia countries.  I am going to work from home doing "Project Funding" for six months during the furlough of the worker who now does the job.  It involves financial record keeping and doing fund transfers to workers in several countries who are engaged in translation projects.  I had no idea of the scope of the projects or of the complexity of keeping their finances in  order.  The guy at the computer is smiling because he will get a break from spreadsheets for six months.
      A most delightful part of the trip was getting to travel to Holzhausen, Germany to reunite with Gary & Carolyn.  We first met them last August in Córdoba.   They had recently arrived in Germany to assist the WA Eurasia directors [and other jobs].  Gary was later appointed director of this 60+ country zone with all the pressure and travel involved.
           In this photo they are overlooking the Rhine River at Koblenz.