April 2014
           Thelma Gertrude (Sandland) Carpenter was born in the log homestead house built by her father near Grygla, Minnesota.  Her parents were Saamund (Sam) and Anne Sandland.  She spoke Norwegian as a child.  She graduated from Thief River Falls (MN) High School and later attended secretarial school in Minneapolis, MN.  In both cases she worked as a housemaid in exchange for room and board.  While in secretarial school she met Dorothy Wales who became her life long friend.  Dorothy arranged a picnic for Thelma to meet Lionel (Bud) Carpenter and the rest, as they say, is history.  They married on November 30, 1940 and lived in the Twin Cities until Bud was called into the U.S. Navy.  Thelma joined him at his duty station in St. Augustine, FL in 1944-45.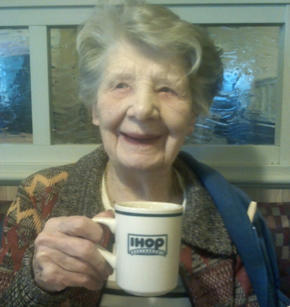 Thelma and Bud settled in and near Minneapolis, MN after WWII until moving in 1959 to Anchorage, AK where they built their own house.  They resided there until retirement in 1980 when they moved to Turlock, CA.  They had been married nearly 71 years when Bud passed away in August 2011.
            Thelma was a full time homemaker and, in addition, found time to work at Donaldson's Department Store in Minneapolis and in Anchorage at the National Bank of Alaska and the City of Anchorage.  Her son was about 16 before he realized she slept.  Her home was always open to family who would sometimes live whole summers in the basement. During her retirement years in Turlock her home was the place to be for her grandchildren whom she loved very much.  She was proud of her Norwegian heritage and loved to demonstrate it by making lefse for her children and grandchildren.  She and Bud loved eating lutefisk at Christmas Eve dinner but the next generation loved it not so much.
            Thelma passed peacefully into the welcoming arms of her Savior at Bel Aire Lodge in Turlock, CA.  Thanks to the loving and patient in-home care she had been given by her son and daughter-in-law, Richard and Lynda, she was able to remain in her home nearly to the end of her life.
            She was preceded in death by her husband, Lionel (Bud) Carpenter, her parents, and her brothers Kenneth, Henry (Hank), Arthur and Simeon (who died in infancy). She is survived by her sons and daughters-in-law: Richard & Lynda of Turlock, CA and Robert & Beryl of Poulsbo, WA; grandchildren Wesley, Brent, Stepahanie (Leigh), Dan and Brian; eight great-grandchildren; sisters-in-law Verna Sandland, Doris Burkhart and Hazel Brown, and by many beloved nephews and nieces.