They don't call it Fall for nothing.   Our yard has three remaining Big Leaf Maples.   We took five out when we first moved in since we had no sky visible with all of them in our back yard.  Another cluster on the south side remained so last spring we took out eight more, all 60 to 80 feet high.   That gave us more sunshine but it hardly seems to have reduced the leaves to rake in the Fall.   They are beautiful colors and give us great joy and plenty of exercise.

            They start to fall in early November and are dry enough on a sunny day to use the lawn mower to pick them up, shred themand are easy to haul to the compost pile.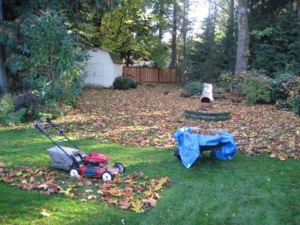 As the month progressed the volume and  the wetness increased.  The mower was not effective and I just raked, piled and hauled.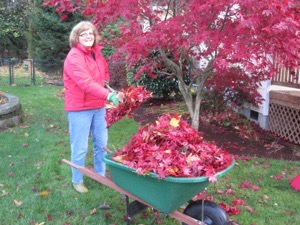 Our front yard features a Red Leaf Maple  that bursts with even brighter red in the Fall.   Here Beryl gets to load up the wheel barrow   a load to the compost pile.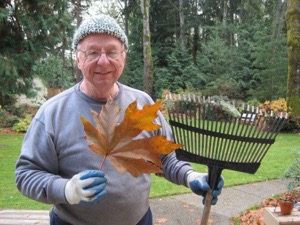 They don't call them Big Leaf Maples for nothing!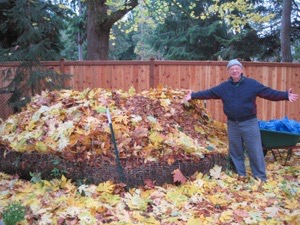 Compare this Autumn cleanup to  our March 30 Blog entry "Back to the Earth"  showing our Spring cleanup.