Cádiz may be the oldest continuously inhabited city in SW Europe.   It is the home of the Spanish Navy and the US Naval Base at Rota is a few miles away.   We made a short visit to Cádiz finding our way to the end of the peninsulawhere the old city is located.   
The photo below is the Fortress of Candelaria built in the 1600's to guard the entrance to the port.  We noticed similarities to the Castillo de San Marcos that we visited last December in St. Augustine, FL which was a Spanish settlement and fort.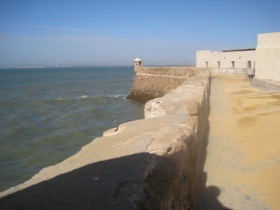 Below is a view of the nearby Playa [beach] de la Caleta with fishing boats anchored for the day.  I believe they go fishing at night.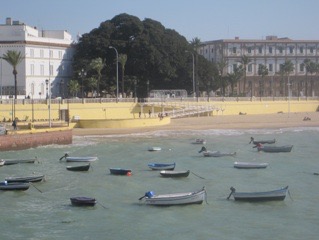 After visiting thesesites and two very lovely parks we had lunch and left Cádiz for the nearby city of Sanlúcar de Barrameda.  Located on the mouth of the Guadilquiver River it is the home of fishermen and producers of Sherry, the rich wines unique to this region of the world.  
       Columbus sailed from here on his third voyage to the Indies and in 1519 Magellan left here with five ships and 237 men to sail around the world but he was killed in the Philippines.  Only one ship with 17 men made it all the way returning here in 1522.   Pictured above is a model of "La Victoria" which made it all the way.
 Pictured here is the interior patio of Hotel Los Helechos where we stayed in Sanlúcar.
Pictured on the right isa tree often found near historic port cities, a type of  Arucaria.    Native to New Caledonia it has been introduced by early navigators around the world.  Also known as "Cook's Pine" it was valued in that age of discovery for its straight and tall trunks that were used as masts for ships.   We have seen these in Chile.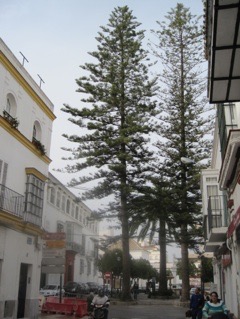 As mentioned above, the region of Jerez de la Frontera, Sanlúcar de Barrameda and Puerto de San Maria is known for production of varieties of Sherry.  The photos above [left to right] are the profile of "Tio Pepe" and of the "Osborne Bull" which are both large brands of Sherry.  The barrels above are in a Bodega [winery] in Sanlúcar de Barrameda where the type of Sherry known as Manzanilla is made.