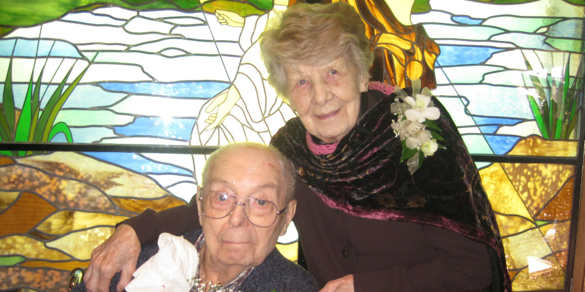 I (Rob) have been really looking forward to celebrating events this fall with my parents, Bud and Thelma Carpenter, who live in Turlock, CA.  While we had only arrived in the USA on September 18th we rushed down to California on September 30.   If you have read this Blog from the beginning you will recall that our departure for Spain last year was delayed in order to celebrate my mother's 90th birthday.  We did not expect to be back for the 91st but we did just a few days late.   I spent four weeks with them enjoying watching college football games with Dad and taking them to lunch.
        I even enjoyed going to the gun range with my brother, Richard, who is apparently in the middle of a warrior phase [smile].
        The main event was, however, the 70th Wedding Anniversary!
        On November 30, 1940 Thelma Gertrude Sandland and Lionel Joseph Carpenter were married in St. Petrie's Lutheran Church in Grygla, MN.  Grandpa Sam Sandland noted that his daughter had gone from the northern Minnesota farm to the Twin Cities, "She goes to the cities where there are lots of Swedes and Norwegians and comes back with a Frenchman."   Dad gained Grandpa's approval when he downed a full helping of Lutefisk.
        Seventy years later with two senior citizen sons, five grandchildren and seven great-grandchildren, they have given their family a legacy of faithful and long lasting love and grace.   Today Dad is in assisted living and Mom receives help from Rob's brother to remain safe in her home.   Life has real challenges for them but they handle it with dignity and endurance.   God Bless Them!